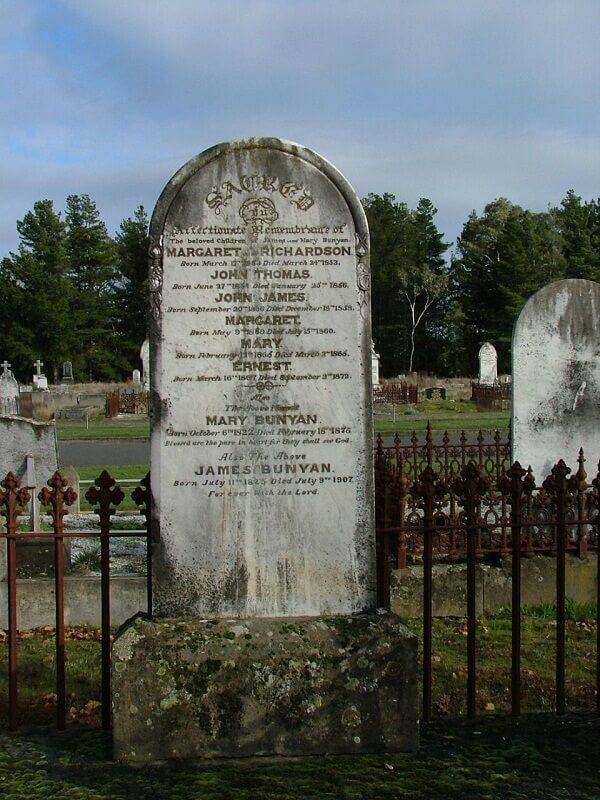 The first registered burial at Creswick Cemetery is that of John James Bunyan who was buried on 20th December, 1858.
On walking around the cemetery though you will find some headstones with dates earlier than this. These people were possibly buried at the original burial ground Drummond street, but could have been buried at the Clunes road site. We have records showing that some of these people were exhumed and reburied at the new cemetery, but it is quite possible that others were also moved at some time but not written up in the records. We have endeavoured to find the official resting place of all those buried at the cemetery, but unfortunately some records were not complete, so we do have some people listed that we don't know the exact plot number of.
The photograph to the left is of the first burial at the Cemetery, Margaret (who was not born in Creswick, so is probably buried elsewhere), Thomas Bunyan and John Thomas Bunyan were both originally buried at the old burial ground, we don't have documentation that they were moved, but they are recorded on the family headstone. Methodist section row 2 plot 247 and 248.
Community
The Creswick Cemetery has been a part of the local community since the 1800's and thrives when our volunteers and locals come together to help maintain the graves, grounds and location.
Our volunteers work tirelessly to weed, mow, plant and keep the grounds looking clear for the visitors and family members visiting their loved ones.
We are always welcoming new volunteers as there is always something that needs to be done.
Here are some of the projects the volunteers have completed.