Many interesting people have lived and died in Creswick, below are just a few of these pioneers of our district.
Jane Ingram; Sir Alexander Peacock; William Black Miller; William "Baron" Bell; John O'Neill; Jeremiah Coffey; Peter Harrington
JANE INGRAM
Jane Ingram, born Limerck, Ireland, 1802, arrived in Port Phillip with her daughter Mary Jane, as a chaperone to 236 orphan girls from the Irish Orphanage, embarked from Plymouth, 13/12/1849 on the "Eliza Caroline" and arrived in Port Phillip 1/5/1850.
Jane died in Creswick Creek on the 24th March 1860, at the residence of her daughter, she was 58 years old. Jane was appointed as a Matron by the Colonial Land and Emmigration Officer, Westminster to escort the Irish orphans to Australia. The girls were between the ages of 15 and 18 and were sent out to go into service as maids etc.
The other adults on board the "Eliza Caroline" were :
Head and Sub Matrons: Jane Ingram, Matron, 44 years; Catherine Burns, Sub Matron, 26 years; Mary Cormick, Sub Matron, 25 years; Eliza Connolly, Sub Matron, 30 years; & Priscilla Mitchell, Sub Matron, 24 years.
Plus two unmarried Females: Mary Jane Ingram, 18 years, Milliner (daughter of Jane Ingram); & Catherine Wren, 16 years, never in service
Female Orphans: 236
Jane is buried in the Catholic section row 10 grave 1158
SIR ALEXANDER PEACOCK K.C.M.G.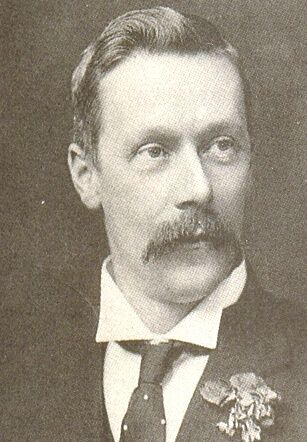 Born on the 11th June 1861, Creswick, Victoria, and died on the 7th October 1933 in Creswick, Victoria. Sir Alexander married Miss Millie Gertrude Holden on the 1st January, 1901 at Port Fairy, Victoria.
Sir Alexander was the first child of Mr. James and Mrs. Mary Peacock. He had two brothers and two sisters : Andrew E. Peacock, Archdeacon of the Otway, Henry Peacock who married Mary Butler and had three children, Caroline D. Peacock who married Sam R. Fyson and had one son, and Margaret Peacock who never married.
Sir Alexander first attended the National school on the corner of Albert and Water streets then attended the Creswick Grammar School which was in Cambridge Street, here he also taught as an assistant teacher from the age of 13 to 18. Work then took him to a Grocer shop in Melbourne before becoming a mining manager with Mr. W. P. Jones. He later formed his own firm of A. J. Peacock with offices in Melbourne and Ballarat.
Some of the organisations he was involved with included the A.N.A. Creswick Branch helping to form it and being the delegate for 50 years and president several times of the Board of Directors; Creswick Havilah Lodge of Free Masons being Grand Master of the United Grand Lodge of Victoria from 1900 to 1905; trustee of the Melbourne Cricket Ground for 26 years.
Sir Alexander was first elected to Parliament in 1889 when he was only 28 years old. He held the Legislative Assembly seat of Clunes and Allandale from 1889 until 1904, and Allandale from 1904 until his death in 1933. He was Chief Secretary between 1894 and 1899 when he made his name by introducing the anti sweating legislation in the form of the Factories and Shops Act 1895. He was Minister of Labour, Minister of Public Instruction (several times) Minister of Forests, Speaker from 1928 until his death in 1933, and Premier of Victoria three times, and knighted in 1902 while serving as Premier.
When Sir Alexander died in 1933 the whole town of Creswick stopped to honor this great man with a half holiday being given to the Borough of Creswick.
A State Funeral was held on October 10th after his body lie in state in the Town Hall.
The Mayor of Creswick accompanied his body to the Town Hall from his home in Cambridge street and on arriving at the Town Hall his casket was placed on a Union Jack draped stand and the Mayor handed his body over to Captain Northcott for safe keeping.
Captain W. S. Northcott then posted the first relief of Mr H. C. Packham and Mr H. Dean who were the guard of honor provided by the Creswick Branch R.S.S.I.L.A. Mr. T. New, Mr. P. Kennedy, Mr. G. Jamieson and Mr. A. New provided relief at intervals of two hours, two men at a time until his funeral. Many people went to visit Sir A. J. Peacock while his body was lying in state and dozens of wreaths were placed at his side.
After a service at St. Johns' Anglican Church his body was taken down Albert street to the Cemetery. The children of St. Augustine's and Creswick State School's lined Albert street and when the procession reached North Creswick the North Creswick School children lined Clunes road. The Forestry School students formed up at the cemetery gates.
Sir Alexander Peacock's wife Lady Millie stood for the Legislative seat of Allandale, caused by the death of Sir A. J. and won the seat. She held this position for the remaining two years of her husband's term. As Lady Millie was in mourning during the by-election she made no public appearances or speeches during the campaign. The Men of the United Australia Party spoke on her behalf. Buried Church of England row 1 grave 1j.
WILLIAM BLACK MILLER
William Black Miller was born in Scotland June 12th 1846, he left home at the age of 14 to fight in the American Civil War in 1861 Coy A 26th Pennsylvania Volunteers. At the end of the Civil War he worked for Pinkerton's for a few years. He then became a Sergeant in D Coy, 4th U.S. Infantry fighting the Indians. He was discharged in 1877 and sailed to Australia in 1878. While in Creswick Mr. Miller resided at Union Hill.
William's wife Elizabeth received a pension from the American Army until her death in 1924. Following research by the American Civil War Round Table of Australia, a plaque was provided by the American Government to remember Mr. Miller. Buried Presbyterian row 12 plot 1499
WILLIAM "BARON" BELL
William Bell came from the Allandale district of Northumberland, England in 1852 as a young man and made his way to the Ballarat Goldfields. He took part in the Eureka uprisng but made his mark more as an entrepreneur, speculating in land deals in many parts of Victoria, not all of them successful. So called "Baron" because he wore a fur coat and drove a smart carriage and pair. He lost his heart to Eliza Robinson and after they produced five children, a friend suggested it might be a good idea if they married. This advice was taken. He was a generous man and though many so called business men duped him, he always dealt fairly within his own business. Buried Methodist row 1 plot 4
JOHN O'NEILL
Of County Carlo, Ireland, a lineal descendant of the Royal House of O'Neill's of Tyrone, John joined the British Army in 1833 and served in India from 1834 to 1841. He was sent to Victoria in 1854 and saw service at the Eureka Stockade uprising. Discharged from the army in 1856 he settled in Portuguese Flat until his death in 1895. Buried Catholic row 6 plot 641/2
JERIMIAH COFFEY
The Coffey family went to Hobart Town from Ireland in 1837 and moved the next year to Port Phillip. Jeremiah was distressed at the plight of the Catholics there so his wife began gathering children to her cottage for religious instruction- this project was enlarged into Victoria's first Catholic School. In 1844 the Coffey's took charge of Birch's Station, Bullarook, then later settled at Spring Hill. Jeremiah junior was a Shire Councillor; Jeremiah senior was one of the first Trustees of the Creswick Cemetery. Buried Catholic row 1 plot 16-19
PETER HARRINGTON
Of County Ballard, County Westmeath, Ireland, Mr. Harrington was one of the first Headmasters of the Creswick National School (established May 1854) from 1856 to 1873 when the schools were amalgamated. He then taught at the Creswick State School for many years along with his wife Maria. Peter died in 1888 and was buried in a lead coffin enclosed in another of polished cedar. His tombstone has the best example of a Celtic Cross in the cemetery. Buried Catholic row 2 plot 198/9